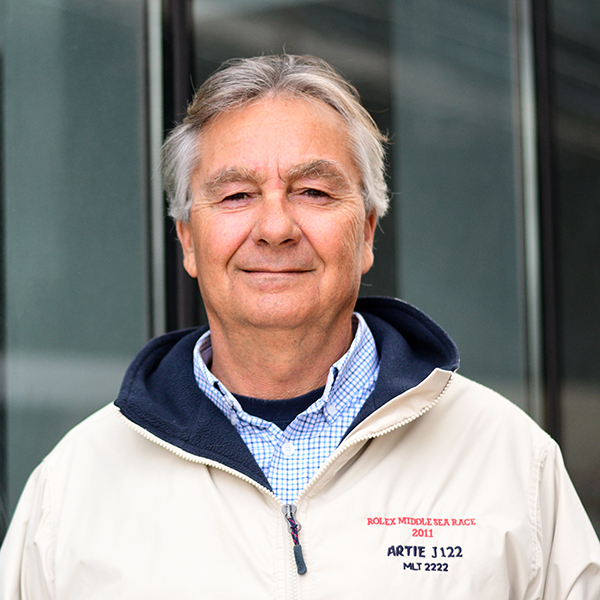 Christian Ripard
International Yachtsman
Christian Ripard, a scion of a sailing family, could sail before he could walk, racing on dinghies, from eight years of age, in the Royal Malta Yacht Club's winter series. Christian then continued to race on all sorts of dinghies progressing to race yachts as he grew older, building an impressive international CV in the process.
Christian has sailed around the globe, from Europe to America to the Caribbean, Australia and Southern Africa moving from one prestigious race to another – twenty-seven Middle Sea Races (four wins as skipper), five Sydney to Hobart, five Caribbean 600, Transatlantic and Giraglia offshore races, the Fastnet, Swan and Maxi Worlds and not to mention the various offshore and single handed races in the Mediterranean.  In the 70s, he was presented with the International World Sportsmanship award by UNESCO for the best sporting act.
Christian has broken records, (Mirror Ten Class, The Netherlands with brother Paul), final race of the 1975 Tencate Windsurfer World Championships, the 1995 Gattopardo. A third attempt at winning a very windy and rough Sydney to Hobart in 2010 was narrowly missed out on in the last ten miles, for Christian and his crew having to settle for second place.  The list goes on.
Christian has been on several Club Committees and has sponsored several events showing that his commitment towards sailing does not stop at personal competition.
The Yachting Malta Awards are being supported by Mercedes-Benz, Simon Estates, Charles Grech and Transport Malta.
For reservations or further information please contact the team on awards@yachtingmalta.org or on +356 999 777 78 or +356 999 992 61