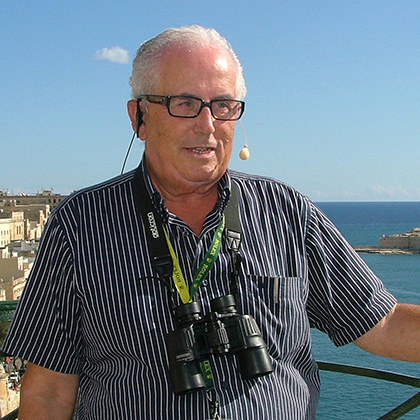 Teddie Borg
Sailing Media Pioneer
Teddie was a pioneer in promoting sailing on the Maltese media.  He went through great lengths in order to bring the sport of sailing into every household via his TV programmes. Teddie's work was proactive as he did not merely 'report' what has happened, as others seem to do, but created programmes that brought the spectacle of water sports to the general public.
His method of communicating his passion for sport was such that even to the uninitiated, sailing was still attractive and interesting to watch.  In this he was very successful as most people came to know of sailing through his programmes.
Teddie always actively promoted Malta with everyone he met during his extensive travels to maritime events.
Teddie was also chairman of the UIM Malta Powerboat Federation and was instrumental in bringing the P1 event to Malta.  In 2013, Teddie was appointed to the board of the Malta Sports Council where he was appointed Chairman of the national rowing regatta. Under Teddie's direction and enthusiasm, interest in this sport was revived.
The Yachting Malta Awards are being supported by Mercedes-Benz, Simon Estates, Charles Grech and Transport Malta.
For reservations or further information please contact the team on awards@yachtingmalta.org or on  +356 999 777 78 or +356 999 992 61