Yacht Racing Forum: Yachting Malta's Chairman Welcome Message
It is my pleasure and honor to address you here today in my capacity as Chairman of Yachting Malta –a public private partnership between the Government of Malta and the Royal Malta Yacht Club with a mission to identify and attract high profile yachting events to the Maltese Islands which is exactly why we are here today.  By working with established partners in the field such as World Sailing, MaxComm and the Malta Tourism Authority we also seek to continuously improve the quality and growth of existing events which include sailing regattas, power racing, boat shows, yachting awards, and conferences.
Allow me to thank the first Chairman of Yachting Malta Arch Godwin Zammit and my predecessor Mr John Huber for their leadership and for steering Yachting Malta into the entity it is today. However, our work is far from done. There is much more to be done.
Allow me also to thank Bernard Schopfer for bringing his event to Malta for the second time. This is testament to Malta's position as an excellent location for bringing together yachting enthusiasts – in various capacities, for a Yachting Conference.
It is therefore my pleasure and that of my Board to welcome those among the delegates who have been here before, not just for the racing forum but also to participate or support any of our yachting events, primarily the Rolex Middle Sea Race and other events like the R44 Cup (previously the RC44), the EurILCA Masters, the Trophée Bailli de Suffren, and others.
Today is an excellent opportunity for Malta to host this very important event. —- Malta, is of course, a small Island nation with a population of about 516 thousand people located in the heart of the Mediterranean region, where it forms part of a total population of 472 million.
Our archipelago has a long maritime history at its core. Maritime activities have shaped the actual story of the inhabitants of Malta and Gozo over the last 7,000 years.
Our natural harbors have always been an attraction of strategic importance to all those who laid claim to the Mediterranean.
From the arrival of the Neolithic Temple builders, followed by the Phoenicians, and then the might of the Roman Empire. They all used our natural ports as re-provisioning stations and military bases.
As did the Arabs, the Normans, and the Genoese, to the Knights of the Order of St John who built the impressive fortifications around the Maltese harbors from which we continue to derive benefit until this present day as time and time again the Valletta Grand Harbor is voted the most fascinating cruise port destination.
For Millennia, Malta has always been considered a site of strategic maritime importance.
We, at Yachting Malta, are here to offer our experience and expertise and look at possible partnerships to facilitate the hosting of your yachting events here. Our team is ready to help you and facilitate the process of hosting your world class event by connecting you with quality service providers and support you in coordinating the necessary logistics to ensure your exceeds all expectations. —-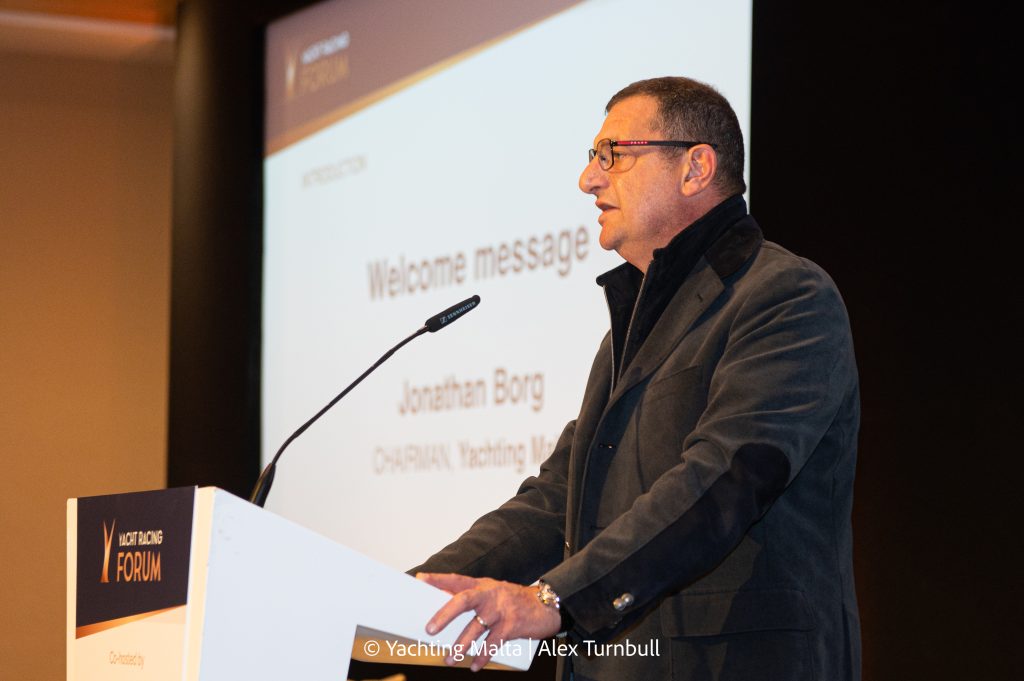 Malta is not just about yachting events. Malta is also a destination that offers quality facilities for refits, hard standing, cruising destination, a home port, a reputable flag, a safe wintering destination and home away from home for your crew and employees. Malta has excellent crew training facilities and first-rate sail training facilities for youth, and Olympic classes.
We look forward with interest towards digitalization and innovation in all its widest forms. We are looking at the new development in foiling where we already have a sizable IQ foil fleet. We can only imagine how interesting the developments in this new technology will be, especially when it filters down to the mainstream sailor.
I conclude by thanking my fellow directors and management team for their support in making this Yacht Racing Forum a success and I wish you all a very great day.