Malta BSC International Regatta rises to the occasion despite flat calm conditions.
The second edition of the Yachting Malta BSC International Regatta was not short of challenges for the Race Officers Bojan Gale (ILCA) and Miguel Amaral (Optimist) who had to contend with very difficult weather conditions.
The Regatta, which welcomed 115 sailors representing eight nations was faced with a general lack of wind throughout the four days. With conditions ranging from 0 – 5 knots, this resulted in a major headache for the Race Committee who made use of both offshore courses to find the best spot each day with just about enough wind to race. In the end, the fleet was able to compete in a total of five races, with the majority of racing taking place on the second day.
The Optimist fleet was the largest fleet taking part, with 27 sailors competing in the Novice Class and 59 sailors taking part in the Open Class. The latter class had the largest amount of international sailors hailing from Bulgaria, the Czech Republic, Latvia, Netherlands, Russia, Slovakia, and Turkey. The two ILCA Classes were predominantly Maltese sailors.
In the Optimist fleet, Latvian Artis Graudums had a good start winning the only race on the first day, however in the end it was Timmy Vassallo who emerged overall winner having produced a consistent performance throughout the events. In second place was Jonas Micallef, whilst third-placed was Nathan Montebello.
In the Optimist Novice Category, Katrina Briffa took the honours on the first day. A not-so-auspicious start for Michael Wilson saw him make up in the subsequent races to emerge winner of the Novice Category. He was followed Jack Vella and Bulgarian David Mitev in second and third place respectively.
There were fewer movements in the ILCA Category placings, with Benjamin Vassallo leading the way in the ILCA 4 Class. He was followed on the podium by Matthew Cachia Debono and Kurt Borg, who claimed second and third place.
In the ILCA6 Class, Matthew Flores was another outright winner, holding on to first place throughout the whole regatta. Places were being swapped between Jean Paul Zahra and Dimitrios Vertsonis. Despite garnering equal points, it was Zahra who pipped Vertsonis to second place, due to Zahra having one net point less than Vertsonis.
Although sailing conditions on the days of competition were not ideal, the international guests were able to enjoy the usual conditions enjoyed during this time of the year during a pre-Regatta training camp hosted by the Club. This clinic was lead by world top coach Simone Ricci who guided optimist sailor Marco Gradoni to three consecutive world championships. Mr Ricci was assisted by BSC coaches Ivan Vasilev and Craig Farrugia Vella.
The BSC International Regatta was once again supported by Yachting Malta.
The Yachting Malta BSC International Regatta was held under the auspices of the Malta Sailing Federation.
Yachting Malta BSC International Regatta Results
Optimist Class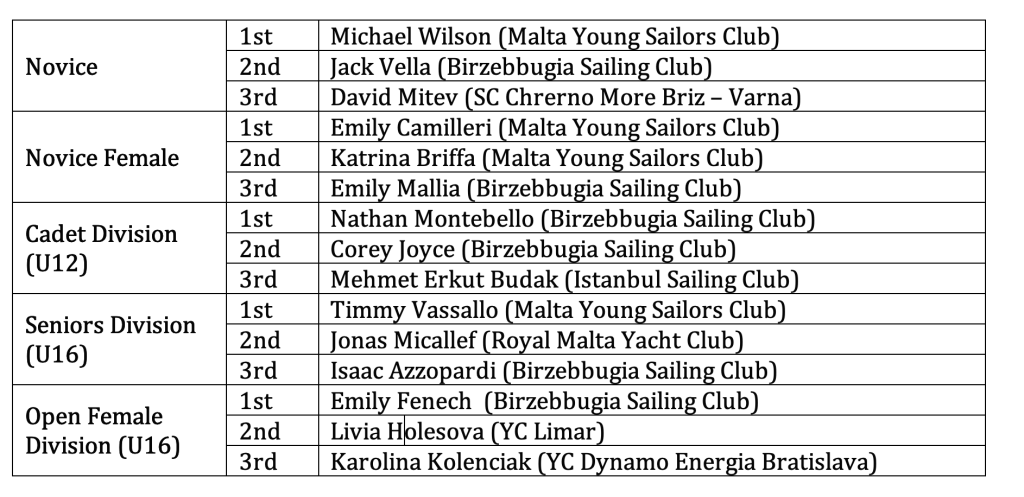 ILCA Classes