Mapfre Middlesea Yachting Malta Christmas Regatta – Large Fleet, Competitive Racing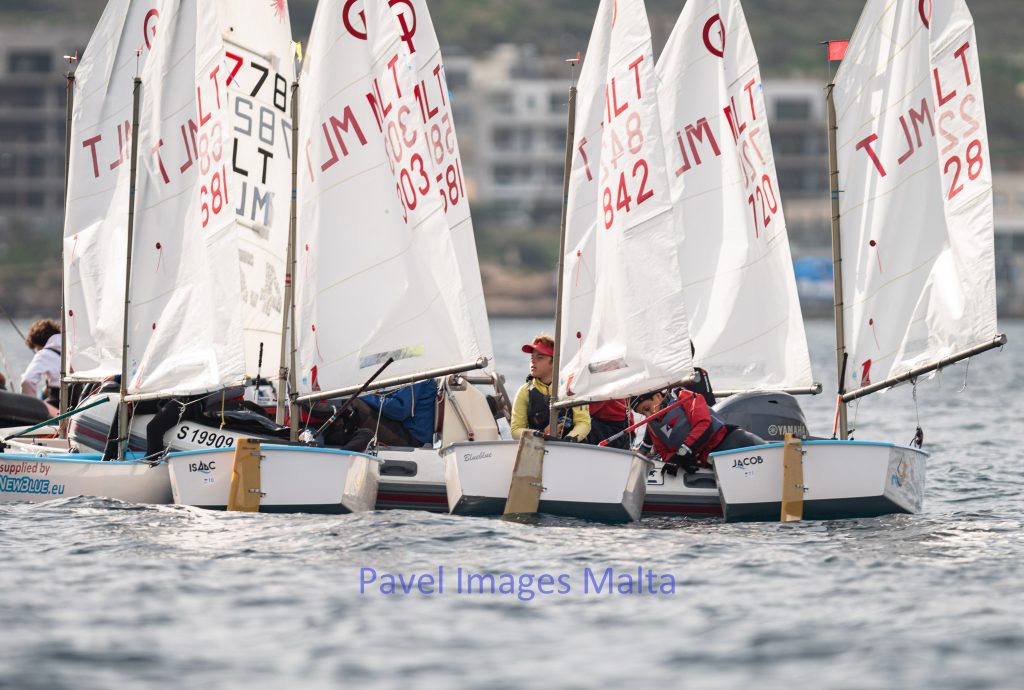 For the past two decades, the weekend before Christmas – particularly for the Malta Young Sailors Club, was all about bringing together a fleet of international sailors competing in the Euromed International Regatta. For 2020, these plans had to be cancelled, the Regatta becoming another sporting casualty of the Covid-19 Pandemic.
Foreign sailors, who usually throng to Malta for a few days of highly competitive sailing had to miss out on this year's event. Nevertheless, the Club decided to host the Mapfre Middlesea Yachting Malta Christmas Regatta for locally based sailors in Mellieha Bay.
Initial plans by the Malta Young Sailors Club was to host a three day regatta which kicked off on Friday. All local Sailing Schools and Club were represented on the water and competed in Optimist, Laser and RS Feva Classes.
Weather conditions for Friday and Saturday were relatively similar, starting off with a moderate swell and windspeeds of approximately 15 knots on Friday. Saturday was a more challenging affair, with stronger swells and winds reaching around 17 knots. On Sunday morning experienced shifting light winds which delayed the start by roughly an hour. Once the racing started, a heavy thunderstorm set in, resulting in the Principal Race Officer Peter Dimech taking the decision to abandon the race just in time to avoid a heavy lightning storm. All races planned for the day were cancelled bringing to the end the Regatta.
"It is always disappointing when one has to abandon racing activity, but the weather is something we had no control over and safety comes first. Nevertheless, the fleet managed to fit in six very good races over Saturday and Sunday, so all in all it was a good weekend! " – Peter Dimech, Principal Race Officer.
The racing fleet was made up of the Optimist Class – Novice, Cadet and Senior, the Laser Class – 4.7, Laser and Standard and the RS Feva XL Class.
Optimist Class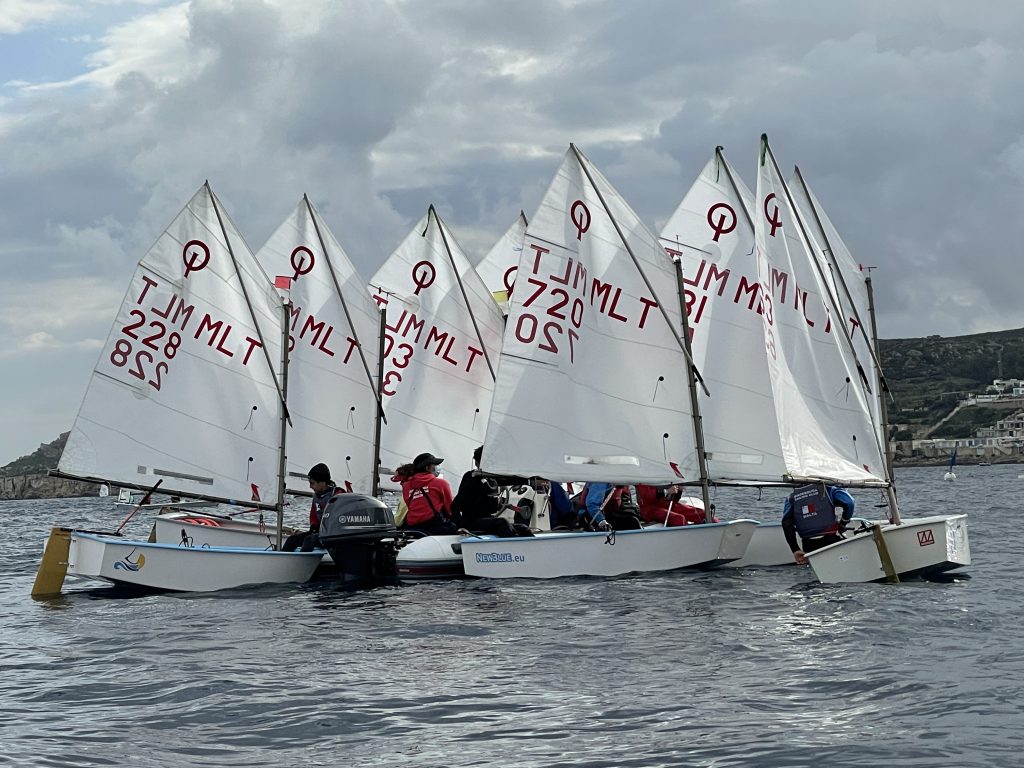 MYSC's Jack Gabriele was won the Novice Class, having garnered four wins and two second places. In second place was RMYC's Matthew Camilleri who, although finished in fifth place on Friday, had a very good day on Saturday resulting in him taking second place. In third place was Katrina Micallef, also from the RMYC, who slipped to third place on Saturday but nevertheless gave a good account of herself throughout the weekend.
Meanwhile in the Optimist Senior Class, it was an all Malta Young Sailors' Club podium with Nico Drescher, Eric Fenech Pace and Ben Vassallo taking the honours. Eric Fenech Pace and Ben Vassallo finished the first day with equal points, with Fenech Pace taking lead due to his two second and one first place on the day. On Saturday, third placed Nico Drescher climbed up the leaderboard to first place having registered a win and two second placings.
In the Optimist Cadet Class, MYSC's Timmy Vassallo and Jonas Micallef led the fleet on day one, with BSC's Zane Attard taking third place. Meanwhile on Saturday, Micallef and Vassallo swapped places with Jonas Micallef winning the Class.
Laser Class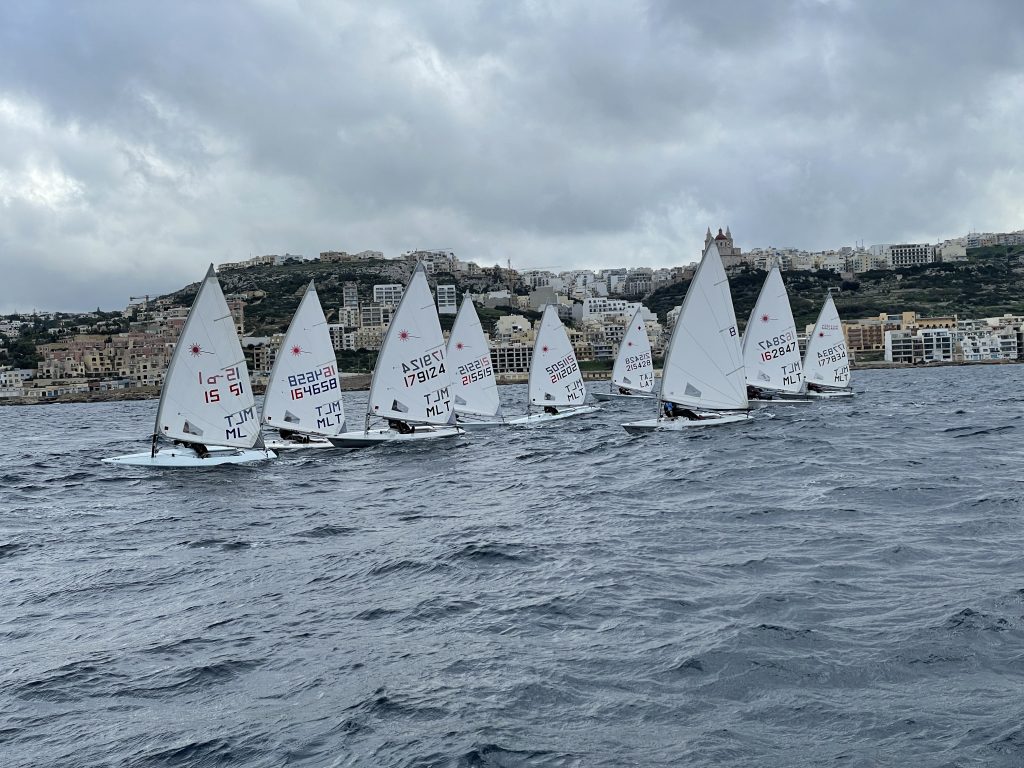 Matthew Flores (BSC) emerged winner of the Laser 4.7. Flores maintained a composed performance to keep the first place earned on Friday, despite having a challenge from MYSC's Saul Vassallo and BSC's Shaun Aquilina.
The Laser Radial Class was dominated by RMYC Entries – Agija Elerte, Elza Cibule and Dimitris Vertsonsis. The former two sailors, are currently in Malta on a sailing training camp whilst Vertsonsis is a homegrown sailor who has been competing locally for a number of years. The trio maintained their placing throughout the weekend's proceedings.
If there was any class which registered consistent results, it was the Standard Class. Similar to the Radial Class there was no change in classification over the two days. RMYC's Roberts Štāls-Buls was the outright winner of the Class having won all six races. Behind him was Karl Miggiani and Gregory Mifsud who maintained their second and third placing throughout.
The RS Feva XL Class was won by BSC Duo Daniel and Dasha Attard, who won five of the six races. In second place was Dale Attard/Andre Fenech (BSC) and in third place was RMYC's Ada Calosso and Faye Portanier.
Commenting about the event, Malta Young Sailors Club Commodore Chris Bajada expressed his satisfaction at the outcome of the event, which made up for the disappointment of the annual Euromed International Regatta being cancelled.
"We have carefully and for a long time considered the opportunity to host the 21st edition of such a prestigious regatta but decided to organise a regatta for local sailors – this is because the Club greatly cares for the health and safety of all those involved, and of course the realisation that the unpredictability of the pandemic have allowed us to guarantee a serene and relaxed atmosphere as has become tradition" explained Chris Bajada, Commodore – Malta Young Sailors Club.
Prizes to the Class Winners were presented to the winners by Club Commodore Chris Bajada in the presence of Mr. Michael Mifsud, General Manager, Yachting Malta and Mr. Mark Vassallo, representing Mapfre Middlesea.
Malta Young Sailors Club expressed its gratitude towards Mapfre Middlesea, Yachting Malta, all sailing clubs that supported the event and most of all the volunteers who gave their time to make the event possible.
Mapfre Middlesea Yachting Malta Christmas Regatta Official Results
Optimist Novice
| | |
| --- | --- |
| 1st | Jack Gabriele (MYSC) |
| 2nd | Matthew Camilleri (RMYC) |
| 3rd | Katrina Micallef (RMYC) |
Optimist Cadets
| | |
| --- | --- |
| 1st | Jonas Micallef (MYSC) |
| 2nd | Timmy Vassallo (MYSC) |
| 3rd | Zane Attard (BSC) |
Optimist Open
| | |
| --- | --- |
| 1st | Nico Drescher (MYSC) |
| 2nd | Eric Fenech Pace (MYSC) |
| 3rd | Ben Vassallo (MYSC) |
Laser 4.7
| | |
| --- | --- |
| 1st | Matthew Flores (BSC) |
| 2nd | Saul Vassallo (MYSC) |
| 3rd | Shaun Aquilina (BSC) |
Laser Radial
| | |
| --- | --- |
| 1st | Agija Ēlerte (RMYC) |
| 2nd | Elza Cibule (RMYC) |
| 3rd | Dimitris Vertsonis (RMYC) |
Laser Standard
| | |
| --- | --- |
| 1st | Roberts Štāls-Buls (RMYC) |
| 2nd | Karl Miggiani (MYSC) |
| 3rd | Gregory Mifsud (MYSC) |
RS Feva
| | |
| --- | --- |
| 1st | Dasha Attard / Daniel (BSC) |
| 2nd | Dale Attard / Andre Fenech (BSC) |
| 3rd | Ada Calosso / Faye Portanier (RMYC) |