Yachting Malta BSC International Regatta draws to a close
The Yachting Malta BSC International Regatta offered another challenging day for hosts Birzebbugia Sailing Club on the final day of the regatta, as weather conditions continued to make things difficult for the Race Committee led by Miguel Amaral.
The sea state outside the harbour was similar to that of the previous days. Patchy wind conditions, with approximately just two knots of wind made it a waiting game for all fleets. A small sign of improved conditions was experienced later in the morning, but the hope of a race was short lived as wind was back down to two knots. It was only early in the afternoon that the fleets were able to launch and compete in one final race in Xrobb L-Għaġin.
Optmist Fleet
Danyil Mykhailichenko (BSC) pipped yesterday's Senior Class leader Erik Scheidt (LTU) to the win with just a one point advantage over the Lithuanian, who until yesterday had a three point lead over the Ukrainian. Malta's Timmy Vassallo, finished today's race in second place. This meant Vassallo retained the third place earned yesterday and could thus carry the Maltese flag on the podium in third place.
In the Cadet Class, Nathan Montebello (BSC) retained his lead from yesterday followed by Villiams Osipovs (FVR), whilst RMYC's Ethan Kodjaazliev took third place.
ILCA Fleet
Today's race saw Benjamin Vassallo (MYSC) continued his consistent run from yesterday, to take the win of the day. Laidon Buhagiar's (BSC) second place today saw him edge past Katrina Micallef (RMYC) who ended yesterday's run in third place. Jake Mallia's third place on Sunday afternoon, meant he was able to retain the second overall place gained yesterday.
The ILCA 6 fleet on Sunday was dominated by host Club Birzebbugia's female sailors Lacey Aquilina and Michela Mifsud who finished in first and second place respectively.   Dimitrios Pipi Vertsonis (RMYC) third place today saw him emerge as Class winner with a two point lead ahead of Matthew Flores (BSC).  Flores, who won three of yesterday's four races and was leading the fleet, slipped to second place, two points behind Vertsonis.  Kurt Borg  retained his overall third place to complete the class podium.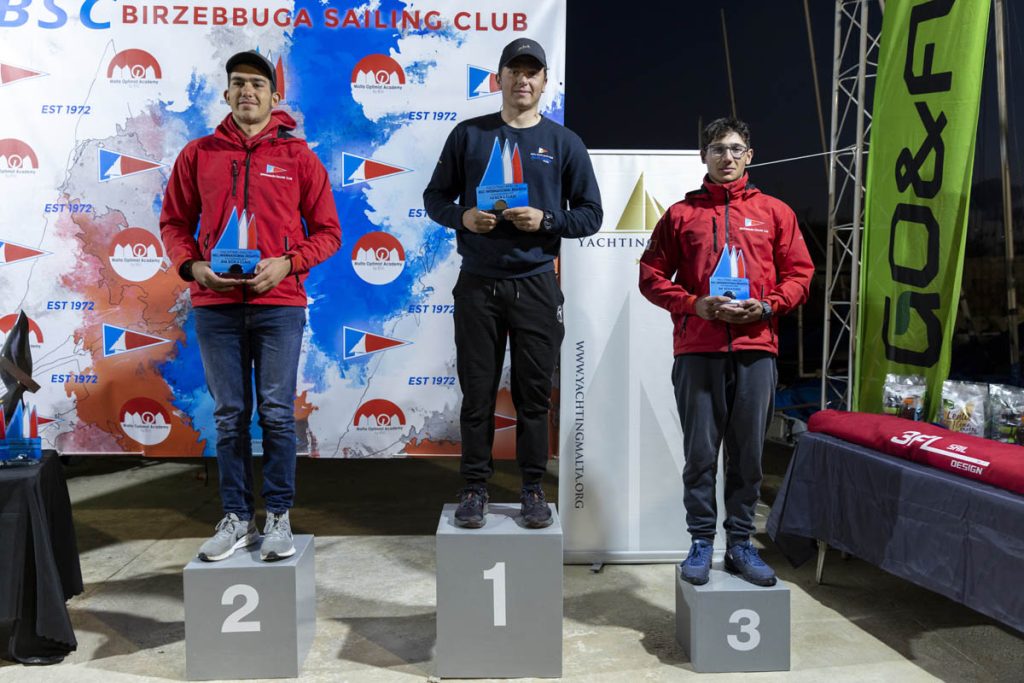 The Club hosted a Prize Giving ceremony in the Club house in the presence of the Minister for Public Works and Planning Hon. Dr Stefan Zrinzo Azzopardi and main sponsor Yachting Malta's  Chairman Jonathan Borg, who remarked that the warmth of Malta's hospitality made up for the cold weather experienced in the last couple of days. He went on to express his pride at supporting international regatta's like these who not shine a light on Malta internationally but also provide development opportunities for Maltese sailors.
Prizes were handed out to the winners, by Robert Scheidt 5 time-Olympic medallist who accompanied his son Erik who competed in the Optimist Senior Class, Hon. Dr Zrinzo Azzopardi, Birzebbugia Mayor Scott Camilleri and Yachting Malta Chairman Jonathan Borg.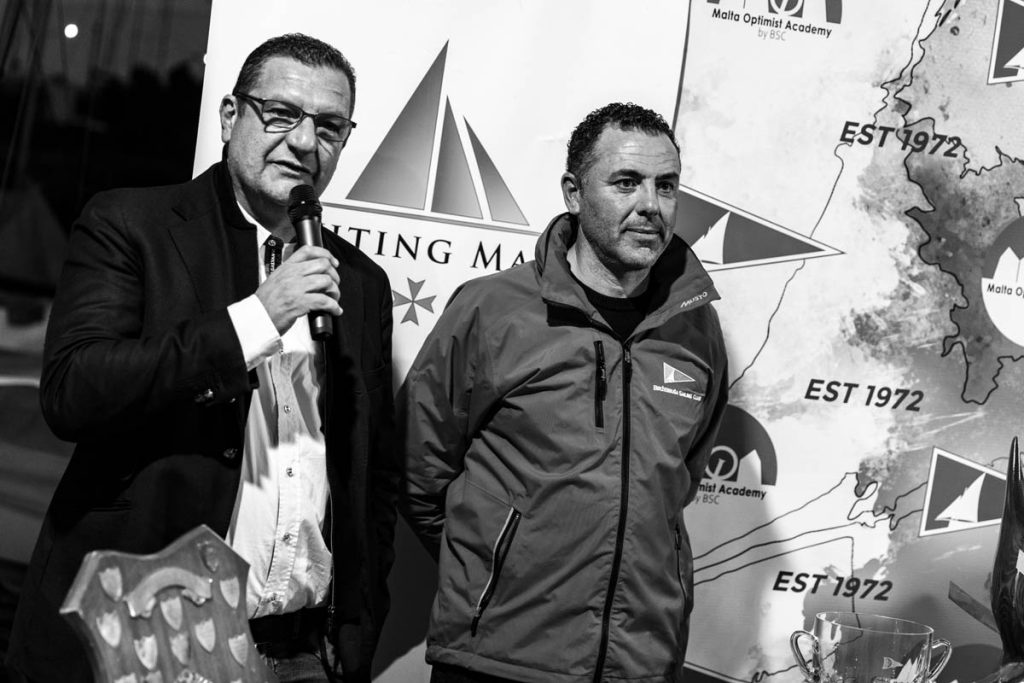 In his concluding remarks, Club Commodore Mario Aquilina, thanked all those involved in the organisation, particularly the volunteers. " Locally, we know that the holiday weekend of St. Paul can always provide a bit of a challenge but from the comments received,particularly from Olympic Champion Robert Scheidt,  it looks like we rose to the occaison, we hope that we will see most of you again in a year's time" he concluded.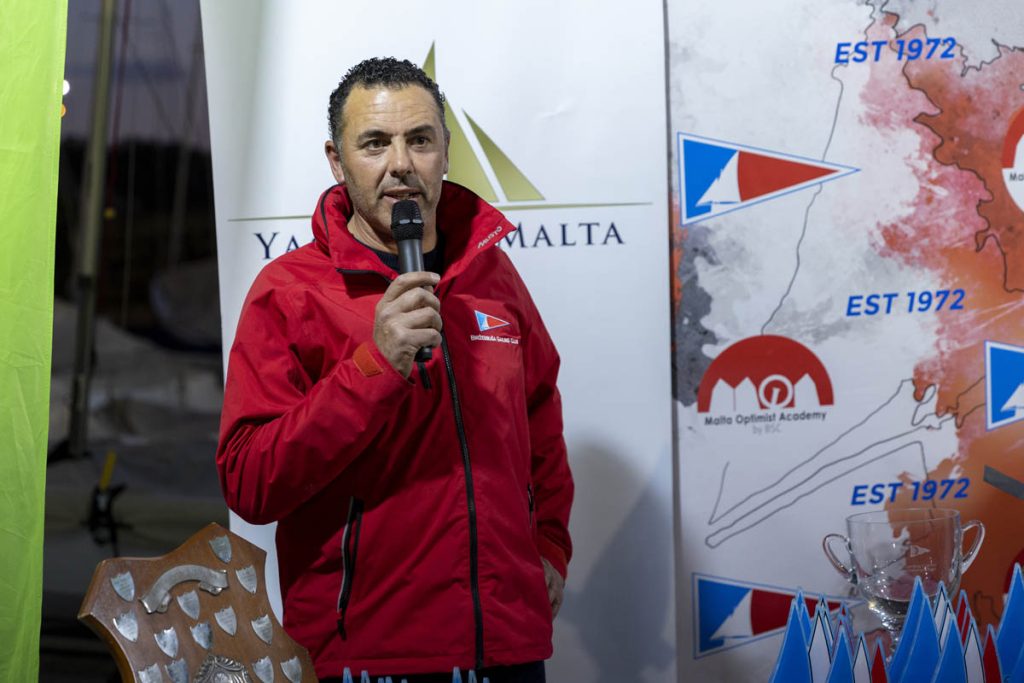 The Club thanked sponsors Yachting Malta Ltd and supporters RLR Yachting, Go&Fun, 3FL Sails and Birzebbugia Local Council for contributing towards this event.